Residential Moving
Our crew handle your belongings with the utmost care and pay special attention to every detail. Whether padding furniture, wrapping couches or hanging your clothes in a wardrobe, we ensure your move is hassle-free. Rest assured any special needs are handled with due care by our expert staff. If you need a place to store things for awhile, moving and storage is another one of our many services. We have moving boxes in all sizes, including any moving materials you can think of.
From a large item like an outdoor spa, to delicate crystal, our crews are fully prepared and equipped to handle any moving situation. We are well known piano movers and can handle large screen TV's, boardroom tables, fridge's, heavy furniture. Awkward items are easily handled using techniques and equipment we have refined over the years.
Professional Moving Equipment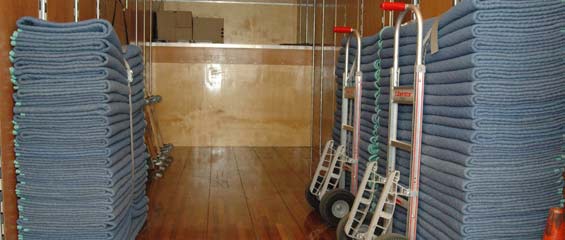 As professional movers we are equipped with clean modern trucks, dollies, shrink wrap and blankets to make sure everything is completely protected. Based on Vancouver's North Shore, Smoother Movers has been moving businesses and families for decades now with over 60,000 moves to our credit. We have grown due to repeat business and referrals right from the start, courtesy of our thousands of happy customers.
What to expect on Move Day
Arrival on time the driver/van operator will be your go to person and supervisor of the crew if you have any questions or concerns.
The first thing we will do is a quick walk through your home to note any previous damage and take pictures to document the condition of your furniture before the move.
If requested a full inventory with tag and list may be made to itemize the load for security and distribution purpose at the new home.
Once the move begins the movers will start loading the van after determining the best order in which to load. Be sure that anything you do not want loaded like personal items and high value items you plan to carry separately are set aside from the items going in the moving van. The movers have a technique of loading your furniture and other items. Each piece will be pad wrapped then shrink wrapped to ensure maximum protection during the move. The movers will then load the van from floor to roof like a puzzle to guarantee there is not any shifting or chance of movement during transport. Don't be alarmed if your items appear to be mixed up in the truck; you will tell the movers exactly where you want each piece when the load arrives at your new residence.
Now get out of the way! You hired movers so you didn't have to do all this work, right? So sit back and let the movers do all the lifting and straining.